Greetings!
At the Weill Center, we create special moments all year round. We bring people together to experience legendary musicians, emerging artists, comedians, professional dance, symphonies, family-friendly programs, classic movies, variety acts, and more.
As a non-profit independent venue, we rely on ticket revenue from these events and the generosity of our community to ensure we can continue to provide these once-in-a-lifetime experiences here in Downtown Sheboygan.
Please consider supporting the Weill Center with a donation that's meaningful to you.

Thank you for making memories with us!

With gratitude,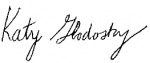 Katy Glodosky
Executive Director
Weill Center Foundation