Greetings!
It's been 20 years since the Sheboygan Theatre reopened its doors as the newly restored Stefanie H. Weill Center for the Performing Arts. Since that day in 2001, our community has been instrumental to ensure the best entertainment is accessible to you, here in Sheboygan.
Because of the support of our community, we're excited to celebrate our 20th Anniversary Season with an incredible lineup of events. You don't have to travel further than Downtown Sheboygan to experience Broadway, cirque, legendary musicians, emerging artists, professional dance, family-friendly programs, classic movies, and more.
Consider supporting the Weill Center with a donation to help ensure we can continue to provide the very best in entertainment for our community to enjoy for the next 20 years and beyond.
Thank you for your commitment to ensuring quality entertainment is offered in our community!
With gratitude,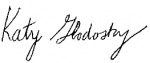 Katy Glodosky
Executive Director
Weill Center Foundation

Chad Hamilton
President, Board of Directors
Weill Center Foundation