WEILL CENTER ANNOUNCES NEW SHOWS FOR 2023-2024 SEASON
Performances include dueling pianos, world-renowned illusionist, David Bowie Tribute, and more!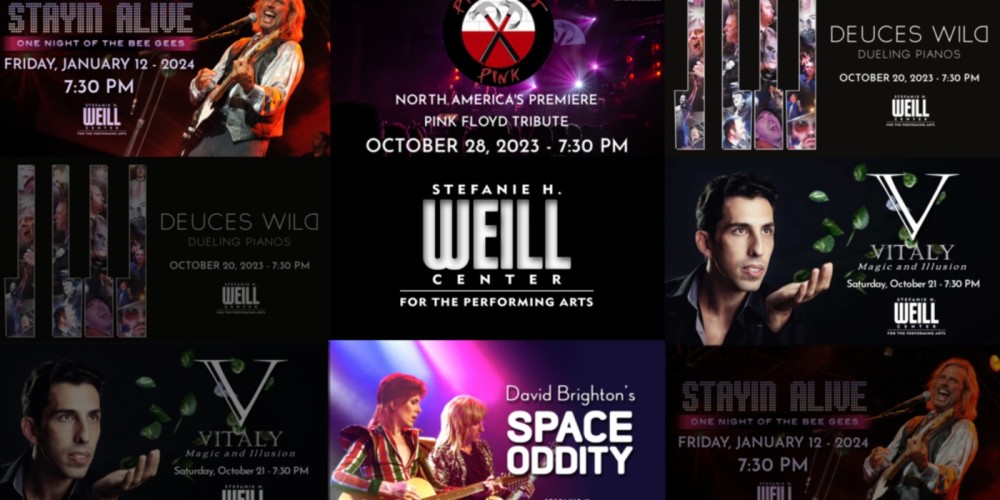 SHEBOYGAN, WI (June 17, 2022) – The Weill Center for the Performing Arts, a 1,150-seat live event
venue in Downtown Sheboygan today announced a variety of additional shows to its 2023-2024 season
lineup. Tickets are on sale Thursday, July 20 at noon. A special members-only presale begins Tuesday,
July 18 at noon. Tickets can be purchased online at weillcenter.com, over the phone at (920) 208-3243
or in person at the Weill Center box office at 826 N 8th Street.
Performances include:
• Deuces Wild! Dueling Pianos – Friday, Oct. 20 at 7:30 p.m. – Two entertainers take audience
requests from all decades and genres to create an immersive performance on two pianos with
plenty of laughs.
• Vitaly: An Evening of Wonders – Saturday, Oct. 21 at 7:30 p.m.– He stumped Penn & Teller
twice on their hit TV show Fool Us and amazed and entertained audiences from all over the
world with his recent off-Broadway run. Hailed as one of the most unique and innovative
illusionists in the world, Vitaly Beckman brings his latest and most ambitious production to the
stage with An Evening of Wonders.
• Project Pink – North America's Premier Pink Floyd Tribute – Saturday, Oct. 28 at 7:30 p.m. –
Armed with a 20-foot projection screen, a virtual armada of lights, and world-class sound
production, Project Pink faithfully recreates the complete Floyd experience – the sights, the
sounds, the intangible vibe. The band's multi-award-winning musicians pour out the most
authentic performances of your favorite Floyd tunes.
• David Brighton's Space Oddity - The Ultimate David Bowie Experience – Saturday, Nov. 4 at
7:30 p.m. – This live, multi-media spectacle takes you on a musical journey through the
constantly metamorphosing career of one of Rock and Roll's most celebrated innovators, David
Bowie. This stunning note-for-note theatrical concert event transports the audience back in time
through some of the most exciting moments in the history of rock music.
• STAYIN' ALIVE: One Night of The Bee Gees – Friday, Jan. 12 at 7:30 p.m. – This quintessential
tribute band to the Bee Gees offers big screen video clips, photos, and dazzling imagery, and
captures the excitement of live performance and the tender subtleties of the human voice!

A complete lineup of events is available at weillcenter.com. Additional performances will be announced
throughout the season. Membership and sponsorship packages are now available. The Weill Center is
also available for private rentals and special events. Tickets can be purchased at weillcenter.com, by
phone at (920) 208-3243 or in person at 826 N 8th St., Sheboygan. The Ticket Office summer hours are
Tuesday to Thursday, 12 to 4 p.m. and one hour prior to each performance.
About the Stefanie H. Weill Center for the Performing Arts

The Weill Center for the Performing Arts is a 1,150-seat live event venue in Downtown Sheboygan, WI.
The Weill Center presents a series of live performances including music, comedy, variety acts, movies
and more. In 2001 the theater was restored to its original Spanish Colonial Revival architectural style
and atmospheric theater, as built in 1928. The theater is currently listed on the National Register of
Historic Places. For more information and a full schedule of events, visit weillcenter.com.